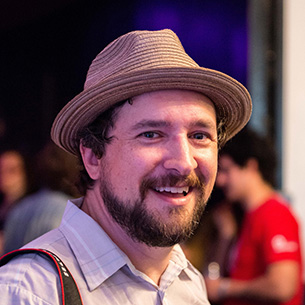 My name is Evan Moss, I'm a Designer, Art Director and Illustrator living in Seattle, WA. I've been working in the bicycle industry for over 20 years for brands like Raleigh, IZIP, Redline, Diamondback, Batavus, Caloi, Lapierre, Haibike, Torker, Pryme, XLC, WeThePeople, Macneil, Voler, SBS and Accell North America. 
I live and breathe design. I create visual concepts that test how products, communications, experiences and interfaces can work together. I can test multiple directions. This allows businesses to take risks they couldn't imagine, because they can see tangible possibilities. That, is business prototyping though design. 
I enjoy biking around Seattle, hand drawn type on signs, sketching my travels, longboarding on Alki, SUP, records, DJing, analog synths, analog books, snowboarding in the spring & snorkeling somewhere warm.

Specialties: Art Direction, Graphic Design, Illustration, Action Sports Marketing, Brand development, Packaging, Product Design, Apparel Design, Website Development, UX Design, Lifestyle Marketing, Social Media Strategy, Color Forecasting, Custom Typefaces & Video Editing & Direction. 
All fantastic clients and brands can reach me by email at: mightymossdesign (at) gmail.com 
Thanks for visiting, you can also find me on: